Although we can't always transfer lessons from one situation to another, very often we can do just that. For example, let's look at a basic tactic used in many games and sports. Take pool, for example. At every turn, the pool player attempts to do three things: hit the desired ball into the desired pocket, position the cue ball after the shot to line up the next shot, and similarly position the cue ball to deny the opponent a shot (should the original shot miss). Boxing and mixed martial arts are similar. With every attempted strike, a fighter tries to hit his intended target, tries to line himself up to potentially follow up the strike with more, and similarly tries to line himself up to deny his opponent from striking him before, in between, or after his original combination. Even board games like chess follow similar tactics. With each move a player tries to get his immediate positional or piece advantage, set himself up for a longer term one, and deny his opponent from getting the same on him.
As business people and marketers, we can apply those same three principles to every move we make in the market place. With every business plan, with every proposal, with every action, we only need to ask ourselves three simple questions. Does this move enhance my position/achieve my short term objectives? Does this move set me up to continue enhancing my position/achieving my objectives in the longer run? And does this move deny or invite my competition to counter me, nullifying my gains?
Let's take an advertising situation we reviewd a while back from the perspective of attack advertising and re-look at it from this new perspective. Audi made an advertising move that directly challenged BMW. They put up a billboard with the text, "Your move, BMW." But they never asked themselves those three questions. Did the ad achieve its short-term goal? Maybe, maybe not. But more importantly, Audi never asked themselves whether the ad set them up for a follow-up while denying BMW an effective counter.
So what did BMW do? The next day, they added the below billboard right next to Audi's.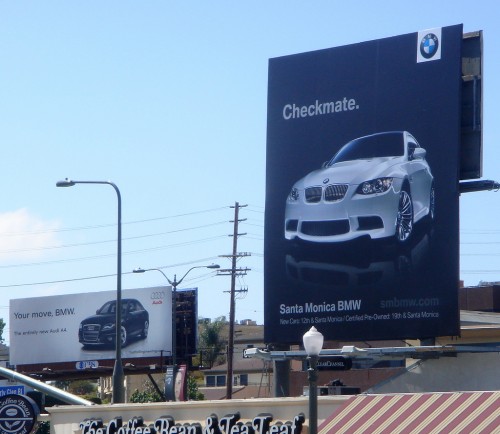 It truly was check and mate. BMW's move was brilliant, but it was enabled because Audi didn't take two minutes to ask themselves those questions.
Domus is an marketing communications agency based in Philadelphia. For more, visit us at http://www.domusinc.com.